*DataPoint* Automation Apocalypse Counterpoint: Real Time Donuts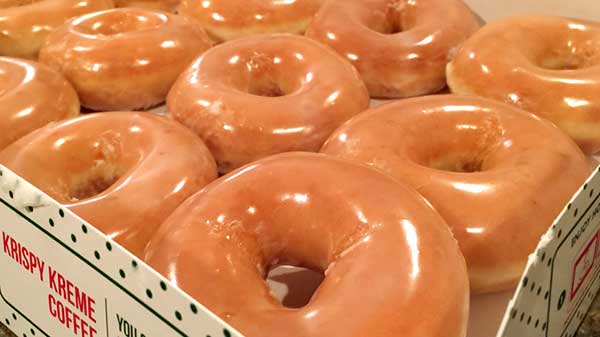 Krispy Kreme is a chain of donut shops here in the US that originated in Atlanta.  If you've ever been to a Krispy Kreme, then you've probably seen the machine that makes the donuts that's embedded in most stores. It's fascinating to watch them go from  raw dough to tasty treat right before your eyes — all without human intervention.
Watching this process earlier today made think about the "impeding doom" coming from the rise of AI systems that will take away all the jobs. Such predictions have been made in the past and, while they did have some short term impact, over the long haul, job markets evolved and people found new ways to earn an income.
This time is different, however, warn the experts. But is it really different? What if automated technology systems can make a more desirable product (in this case hot, fresh donuts) a more viable business model.  For instance, Dunkin Donuts, another donut store chain, makes most of their product first thing in the morning.  While their donuts are tasty, they don't have that "just made" taste or smell. I've not seen Dunkin Donuts make their donuts, but I imagine their system is not as automated as Krispy Kreme's and, if it is, it's certainly not as decentralized.
They may have a donut factory with the same types of machines, but they are likely centralized facilities serving multiple stores.  In short, it's not possible for them to offer the "just made" taste and experience.  Without automation, Krispy Kreme couldn't either.
With their value add of "hot and freshly made" donuts, they've managed to expand in a space already crowded with well established competitors.  As a result, their clever use of automation has created thousands of jobs and they've expanded internationally. All of this in an economy that's been hostile to growth. (See https://www.statista.com/statistics/297017/number-of-krispy-kreme-doughnuts-employees-by-type/ for some raw stats on their growth).
So, will the coming age of AI eliminate jobs. Yes. In fact, it already has. But it will also offer opportunities for entrepreneurs and businesses that can deliver the types of products and services people want and do so in a way that would not be possible without that kind of automation.
In short, my faith in the future has been restored by Krispy Kreme.