Lynn Langit's Excellent Data Adventure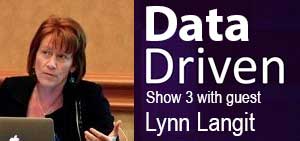 In this episode of Data Driven, Frank and Andy talk to Lynn Langit.  Lynn's a triple threat: Microsoft MVP, Google Cloud Developer Expert, and AWS Community Hero.  Over one million people have watched her Hadoop Fundamentals online course.  We are honored to have Lynn on our show!
Links Mentioned:
Lynn's Website
Lynn's LinkedIn Learning Page
Genome Engineering Applications: Early Adopters of the Cloud
XKCD WebComic: Listening
Sponsor: Enterprise Data & Analytics
Cool Conversation Blurbs
The Coding Architect and Lifelong Learner ([7:30])
Bio-informatics research ([10:50])
Opportunistic Learning ([21:15])
Algorithms run our day-to-day ([27:45])
The law and DNA ([31:45])
Unintended consequences ([36:53])
Hacking Exposed ([41:00])
Lynn Langit Bio
Lynn Langit was a developer evangelist for the Microsoft MSDN team for the past 4 years.. Prior to working at Microsoft, she founded and served as lead architect of a development firm that created BI solutions. She holds a number of Microsoft certifications, including MCITP, MCSD, MCDBA, and MCT. Lynn left Microsoft to do consulting and training in October 2011. Lately she's authored and taught for DevelopMentor (SQL Server 2012 and Google App Engine). Lynn's been doing production work with SQL Server, .NET, Java and more. Her data blog is at www.LynnLangit.com. She is also the co-founder of the non-profit 'Teaching Kids Programming' – more at www.TeachingKidsProgramming.org.