Lauren Tickner on Strategies for Building a Personal Brand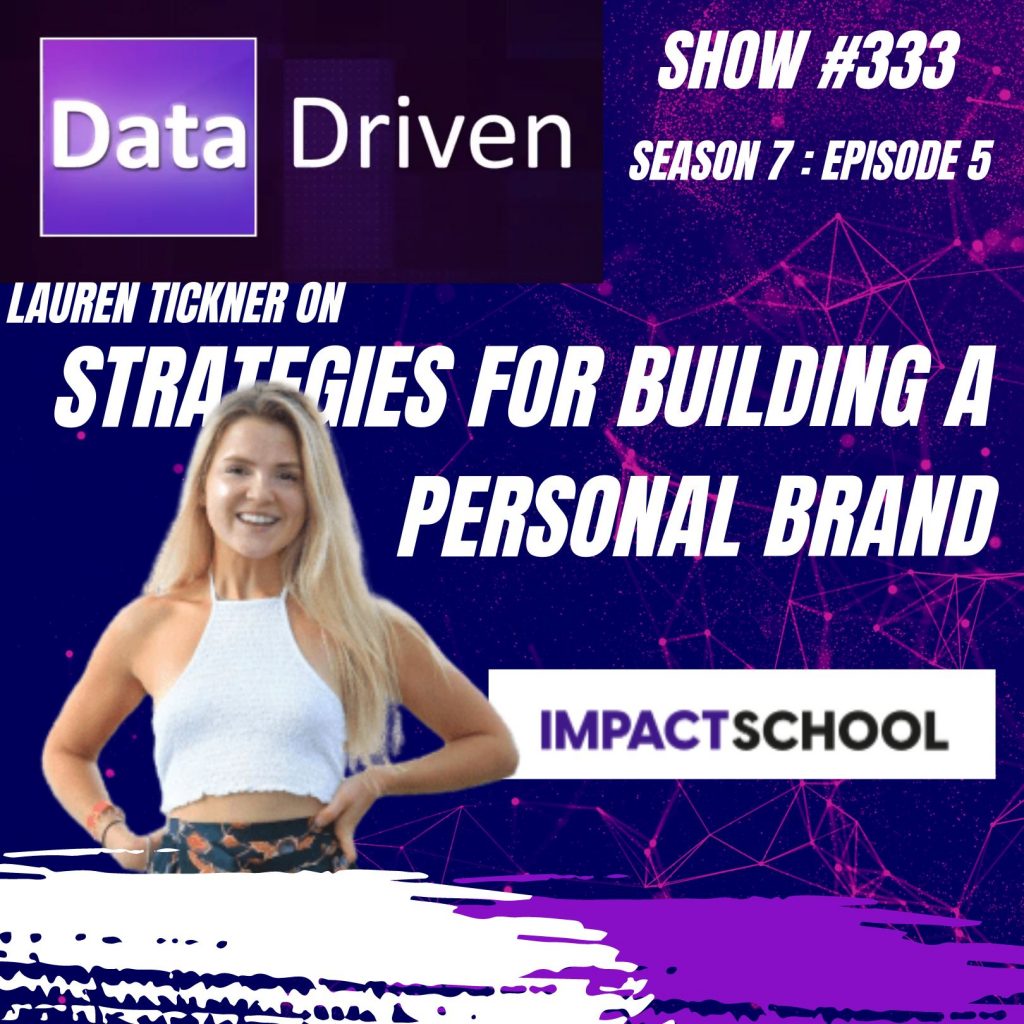 On this episode of Data Driven, BAILeY and Frank La Vigne welcome special guest Lauren Tickner to discuss strategies for maximizing time and success in the digital age.
Lauren shares her insights on motivation, dealing with online haters, and the power of automation in business. The conversation delves into the importance of understanding risks and rewards, breaking free from traditional career paths, and the benefits of working in startups or entrepreneurial businesses. Lauren also provides valuable tips on social media content creation, utilizing storytelling and personalization to engage readers.
Additionally, she introduces the PASTA framework for creating compelling social media posts and shares her approach to tracking and optimizing the client journey.
Moments
[00:01:16] The podcast uses a British voiceover actor to differentiate from East Coast accents. An AI voice named Bailey was later used, which can now be animated.
[00:06:19] Successful asset manager quits job to pursue fitness career using social media. Simplifies life and focuses on selling premium packages. Finds success with minimal monthly sales.
[00:08:05] The speaker discusses their upbringing in New York and the pressure to work in the financial industry. They admire the listener's decision to break free from that path and simplify things. They also comment on the listener's sense of humor and social media presence.
[00:13:00] To simplify social media content creation: automate posting to multiple platforms, identify 5 topics to focus on, add personal storytelling to engage readers, and include a call to action to prompt specific actions.
[00:19:41] The text discusses creating and sharing content for three different audience groups based on their familiarity with the author. It suggests using different types of content for each group, such as introducing oneself to new audiences, showcasing expertise to familiar audiences, and offering opportunities to become clients. The author also talks about segmenting content into top, middle, and bottom of the funnel, and using different calls to action to gauge audience interest.
[00:24:09] Data shows that clients who watch 2 case studies before joining stay longer. We track client journey and added quick welcome call within 4 hours of joining for positive experience. Pooled calendar allows immediate availability for calls.
[00:27:46] The author explains their approach to managing their business, aiming for a smaller internal company and owning multiple businesses rather than having a large team and many clients.
[00:31:58] We should focus on the potential benefits, not just the downsides. Make realistic lists of what could go right and wrong. Replace "time" with "life" to make better decisions. Consider leaving high-paid jobs for startups or entrepreneurial businesses. Showcase the value you can bring to companies.
[00:34:17] The speaker finds the content interesting and praises the concept, emphasizing the key takeaway. They inquire about finding more information.